HLCR Best HQ Toner Supply & Printer Repair Oxnard Ventura Camarillo Ojai in Ventura, California For Sale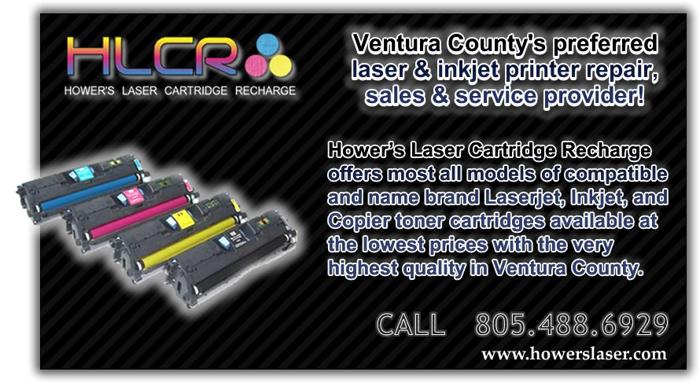 Price: $75
Seller:
Date/Time:23 Oct, 05:37 a.m. EST
Type: Computer, For Sale - Private.

#1 Laser & Inkjet Repair, Recharge, Sales & Service in Ventura County!
Hi, I?m Ken Hower, President of Hower Laser Cartridge Recharge (HLCR).
I am here to help you with your entire personal and business repair / printer supply needs. If you need help with printer repair, to order printer cartridges or have any questions, just give us a call. We are always here to help you at 1-805-488-xxxx
Thanks again!
TONER AND INKJET CARTRIDGES
Hower?s Laser Cartridge Recharge offers most all models of compatible and name brand Laserjet, Inkjet, and Copier toner cartridges available at the lowest prices with the very highest quality in Ventura County.
HLCR has been in business serving your printing needs since xxxx. We sell only the highest quality compatible toner and ink cartridges for laser and inkjet printers that will cover all your printing needs. Most brands of copier toners are available as well.
Using HLCR can save you 25% or more on your printing consumables by using the high quality compatible USA manufactured toner cartridges that we sell.
All cartridges sold by HLCR contain NEW long life drums, wiper blades, bushings, and are filled with the highest quality toner available in the industry.
HLCR provided cartridges are 100% Satisfaction Guaranteed.
HLCR also has very competitive pricing for OEM (name brand) ink and toner available too if that is your preference.
HLCR also offers reasonably priced Onsite Printer Repair with 18 years of experience and specialize in HP and Lexmark printers (other brands serviced as well).
We offer free estimates, and have reasonably priced service charges. All service call charges are applied to the actual repair costs.
A typical service call is only $75.00. Many printer problems that occur can even be diagnosed by telephone.
Net 30 terms are also available to qualified customers!
We 100% guarantee your satisfaction with our prices and service. Experience the superior service offered by Hower's Laser Cartridge Recharge today! 1-805-488-xxxx
Call HLCR Today 1-805-488-xxxx
CraigsList Ad Designed by GlobalWebFX.com

Price: $75
Time: 04:02 a.m. EST
Date: 04 Mar

Time: 01:03 a.m. EST
Date: 04 Mar

Time: 04:05 p.m. EST
Date: 03 Mar

Price: $75
Time: 01:17 p.m. EST
Date: 03 Mar

Time: 01:13 p.m. EST
Date: 03 Mar

Need help with your website?
Skyscraper Web Design is a digital agency that can provide you the tools and services you need in able to create,...
Time: 08:18 a.m. EST
Date: 03 Mar